Carlo Birrozzi, architect, MiBACT
In Alto-arte sui ponteggi, public art installation at Milan 2003-2005
In Alto-arte sui ponteggi, was born in Milan (2003) within the framework of the then Superintendence for Architecture for the authorization of advertising on public buildings. At the very start of XXI century advertising was still a prosperous business and all the construction sites presented advertisings, sometimes even those that were not under restauration, so that commercials were extremely present. In Alto aimed to create breaks in the uninterrupted and well known images linked to advertisings by placing next to them site specific works of art, newly commissioned by the city council of Milan and the Superintendences for Cultural Heritage and for Architecture. I co-curated the project together with Matteo Ceriana and Marina Pugliese and a committee of experts. In Alto resulted in 12 artist's canvases: the large dimension images were hanged/placed next to commercials on the only wall still empty of buildings under restauration. Corrado Levi, a member of the committee wrote: "In Alto-arte sui ponteggi is an exceptional laboratory, it provokes an unusual proximity between vehicular and pedestrian traffic and contemporary art canvases. The reaction to it will need to be examined, since it might arise mixed feelings such as annoyance, indifference, curiosity, participation, opposition, sharing etc etc…"
On which fields of knowledge are you focused?
Preservation of Cultural Heritage .
What is the object of your research?
The ways through which landscape and territory are shaped and our capability to interpret them.
Could you identify some constants in your work?
Personal and shared memory and the way a community develops a sense of belonging to a place .

How did you find out about Aby Warburg's work?
I have read of Warburg's in art history and criticism books. The way images are used to understand links and build connections is fascinating. Finding similarities only in juxtaposing images opens up new opportunities, especially in comparison to the classical methods of logic and art history .
How would you define an Atlas?
An Atlas is a representation of reality and the world; within it one can find the rules for its construction and understanding. As a kid I spent hours flipping through my dad's green atlas, this memory is stronger than that of the giant who holds the world: the origin of the term we use for this wonderful tool. I too was then taking part in the effort to hold and handle the heavy volume. I can't remember whether I preferred political or fisical maps: the first extremely coloured and the latter with more homogeneous colours. I did not know then that both maps undergo change and transformation, and that they might be very distant today from the accurate reality they then represented. Both the book and its content belong somehow to my memory.
Atlas as a conceptual, formal and mnemonic device; do you use it in your work?
In 2019 I was appointed director of the Istituto Centrale per il Catalogo e la Documentazione (ICCD), one of the central institutes of the Ministero per i Beni e le Attività culturali e per il Turismo (MiBACT). Cataloguing the national cultural heritage is under my responsibility; I gather datas and informations to build up maps and atlases. When I was shown the cultural heritage catalogue system next to a map, an atlas, I was impressed by their striking similarity. A catalogue is a reality reduction, and as the atlas, it treasures within it rules to represent it and move through it. By the end the catalogue is the result of the long lasting ideas and policies of the MiBACT which are still on going practises on the territory. When a photographic archive exists as part of the catalogue it turns cataloguing datas into a visual system. Photographs document and interpret the cultural heritage. Images and descriptions comprehended in the catalogue can encourage those connections that Warburg highly regarded.
Do you know about the existence of Mnemotechnics?
ICCD building reminds of a memory palace. One of the main mnemonic techniques relies on the ability to link contents to an image or to a room of an ideal palace. The 'method of loci' is among the best known memory systems. The ICCD building has many rooms filled with shelving units, and the latter with drawers, and in those one finds answer to questions and reward for research. Those memory fragments, the catalogue records and the photographs are distributed in the rooms of the Institute. From the very beginning I felt that the building is the quintessential example of a memory palace.

Which mnemonic system guides the organization of your material?
Unfortunately no one. I frequently use a topic system although I tend to start all over again, subverting the mechanism. I am glad that the Institute has an autonomous life with its precise rules.
Are there visual and emotional formulas (pathosformeln) in your project?

Yes. After In Alto project I felt strongly that in order to gain people's attention and find a way through the many images at our disposal, is necessary to activate little shifts in meaning, so that well known images might take by surprise when forced into meaning alteration. In Alto tried to distract the urban community from their thoughts, to break the daily visual flow of images even if for a few moments. Not all among the art works received attention; those who best succeeded were slightly altered images linked to best known ones. I believe that among those who succeeded are the two portraits of priests hanged on the façade of Villa Reale under restauration; the Villa is the location for civil marrianges. The priests were south american immigrants, portrayed in the style of Seventeen century fashion on a blackground.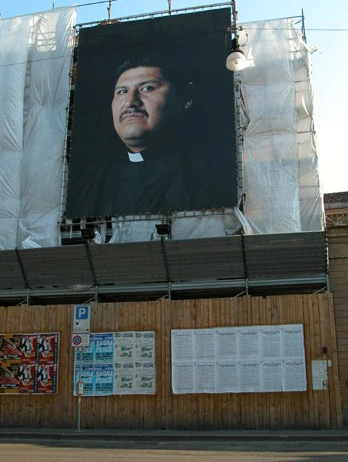 Paola di Bello image was placed in Brera Palace courtyard and uses Napoleon as a gnomon throwing light on both sides. The image resulted by superimposing two photographs taken in different timespan, in the morning and afternoon. A further successful piece was Francesco Simeti's wrapping of Porta Garibaldi with a canvas decorated as a tradition wall paper, but patterned with war images. What is mostly kept inside has been used in an outside setting, so that the reassuring toile de jouy hides a trap in its drawing.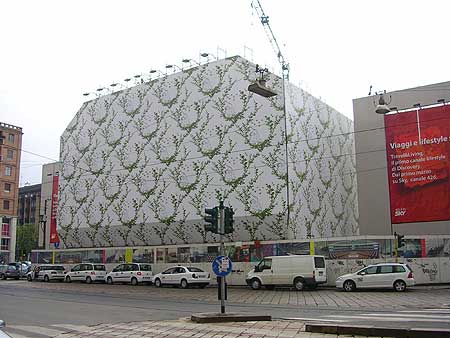 In your work, do you identify formal or conceptual recurrences such as repetitions and disruption, distance and proximity, identity and migration, conflict and colonization?

Those who work on the past and on memory has always to deal with this kind of recurrences. Restauration is an interruption in linear time, brings alive unknown events, circumstances, histories that were invisible before and it pushes them forward at great spead into the future much more than a still thing. Restauration creates pauses, accelerations: somehow it denials the quiet passing of time. Archeological excavation is even more so, it nullify time difference and not only. It makes contemporary unknown events, histories, relations, bringing out the past.
In your work, what is the balance between image and text?
Texts and images might have autonomous lives, and in reality it is so. The act of cataloguing tends to represent objects through words, the contradiction lies if a long description is adapt to describe multiple objects and might at the same time fail to be as accurate as to describe a single one: the image can succeed extremely well in this. Two images reproducing similar objects and placed side by side show differences and similarities much better than a verbal narrative. I believe that if one is interested only in formal reading of the image content, there is no need for description; what is needed is background information and hopefully a critical reading of the reproduced object. In a similar way an image without words might not achieve its goal if background informations are lacking. For a long time we have been searching the formula to describe works of art with a minimun quantity of informations. I am still convinced that only the image, whether it be a photograph, a drawing or an etching and whatever its genre, is able to disclose a work of art.

Thinking about Warburg's 'good neighborhood rule', what are the books that underpin your project?
Alberto Magnaghi, Il Progetto locale. Verso la coscienza di luogo, Bollati Boringhieri 2010
Kevin Lynch, L'immagine della città, Marsilio 1964
Cesare Brandi, Teoria del restauro, Einaudi 1963
Andrea Emiliani, Una politica dei beni culturali, Einaudi 1974
AAVV, a cura di Bruno Pedretti, Il Progetto del Passato: Memoria, conservazione, restauro, architettura, Bruno Mondadori 1997
Silvia Ronchey, L'enigma di Piero: L'ultimo bizantino e la crociata fantasma nella rivelazione di un grande quadro, Rizzoli 2006
Elio Grazioli, Arte e pubblicità, Bruno Mondadori 2001
Maurizio Bettini, Il presepio, Einaudi 2018
Carlo Birrozzi got a University degree in Architecture and a master in Urban Studies in Rome. For a short time span he worked as a freelance in landscaping planning in protected areas and gardens; he then entered the MiBACT as architect. Within the Ministery of National Heritage he has been active in different offices and worked within the Direzione Generale Arte e Architettura Contemporanee during the setting up of MAXXI museum, and for the protection of contemporary architecture. During the past seven years he has been the director of superintendencies in diverse Italian cities.