March 2022
On the road
Thursday April 7th, Saturday 9th and Sunday 10th,
Leporello goes to Cagliari, at Cultína's, for a talk, a workshop and its bookshop on the road!
From April 8th to the 10th, 9 am – 8 pm, you can enjoy a selection of books from Leporello bookshop, right in front of Cultìna, via Giardini 156 b
On April 8th
Talk – Publishing and photography
A conversation about the possibilities of the world of paper and photographic language.
Guests: Chiara Capodici, Marcello Cualbu, Luca Spano, Alessandro Toscano.
Following: Presentation of the bookshop Leporello on the road hosted by Cultìna until April 10th
Natural wine tasting – Babeuf
Music Selection – Cultìna
Saturday 9th and Sunday 10th April
10.00 – 13.00; 15.00 – 19.00
The PhotoBook – Relations and Constellations
Workshop on the construction of a photographic project in editorial format
curated by Chiara Capodici
Cultìna is a coworking entirely dedicated to creative professionals in the center of Cagliari.
It is an equipped laboratory dedicated to artisan printing, bookbinding and digital and a multifunctional space dedicated to cultural events, exhibitions and talks. Fiammetta and Ilaria, in addition to coordinating and managing the space, work as consultants for the development of projects, taking care of the general output and the possible drafting of texts, even for calls for proposals and competitions.
Cultína derives from the Sardinian language and indicates the area of shade that is generated under the tree that gives refreshment to shepherds and sheep. The choice of the name refers to the desire to give life to a place capable of welcoming, of creating connections between people who stop there: a small happy island dedicated to art.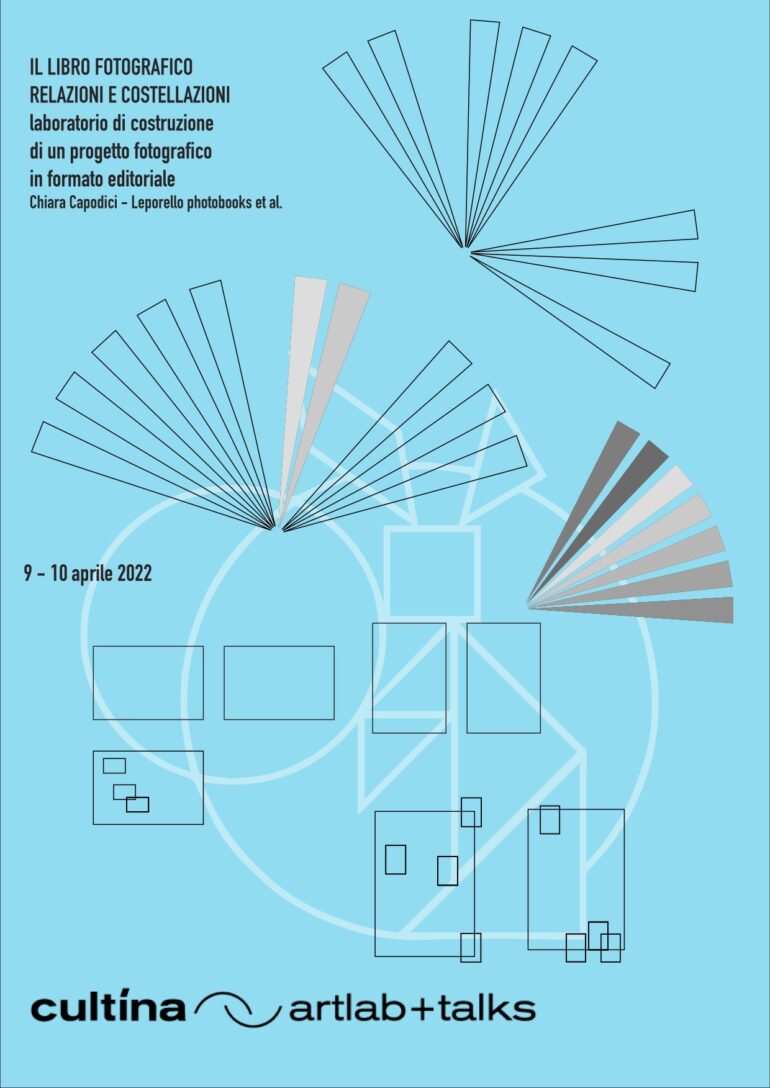 Hours and Infos
Thursday April 7th, 7 pm
Publishing and Photography:
A conversation about the possibilities of the world of paper and photographic language

Saturday 9th and Sunday 10th April
10.00 - 13.00; 15.00 - 19.00
The PhotoBook - Relations and Constellations
Workshop on the construction of a photographic project in editorial format
curated by Chiara Capodici