August 2022
Friday 9th - Saturday 11th September,
GU.PHO. 2022 International Vernacular PhotoFestival
GU.PHO. 2022 International Vernacular PhotoFestival
We are happy to participate to the first edition of GU.PHO. 2022, the first International Vernacular FotoFestival in Italy to be held on September 9, 10 and 11 at Castello di Guiglia, in the province of Modena.
The event involves ten Italian and international artists-Erik Kessels, Alcide Cozza, Ivana Marrone, Sergio Smerieri, Alessandro Treggiari, Claudia Grabowski, Angelo Camillieri, Marco Trinchillo, Iana Bors and Anna Michelotti-as well as Leporello Photobooks from Rome, FRAB'S Magazines & More from Forlì and FOTO VIP from Modena.
The event, organized by the Mezaluna cultural association of Vignola led by Giampaolo Grandi, sees the artistic direction of Sergio Smerieri, assisted by Giorgia Padovani, and is sponsored by the Municipality of Guiglia, the Pro Loco of Guiglia, the Unione Terre di Castelli, the Province of Modena and the Emilia Romagna Region.
A three-day study, exhibition, talk and publishing event around the theme of vernacular photography.
Download the press release and read the program below!
(sorry, Italian!)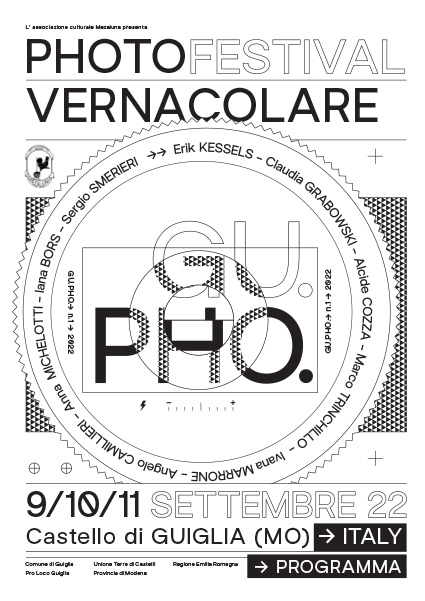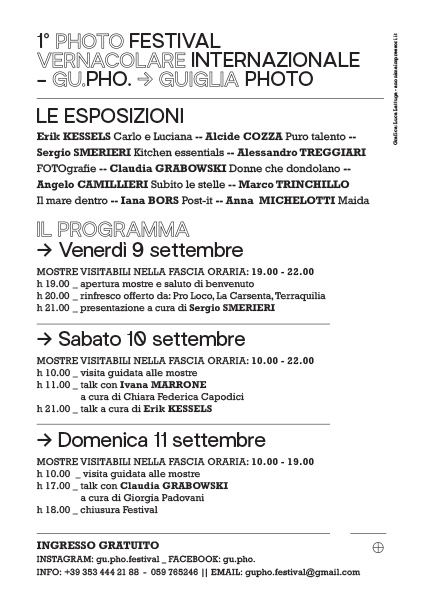 Download