April 2019
Presentation
27th march, 7 pm,
ORIGINAL – THE MODERN STUDIOLO by Erik Göngrich
With a presentation by Janine Sack and the publications of eeclectic.de. What if we consider the elements of the urban environment as sculptures, or better as objects? And what if a piece of furniture becomes a thinking-tool? Modernism set a precise functional hierarchy to things, creating a logical relationship between big and small. Design seems sometimes like an invisible hand, an éminence grise, and from a building to a chair we are reassured by the idea that there's a rational reason behind what we see, even when it seems there's not.
Erik Göngrich is a strategist of shaking us off certainties and shaking us into questioning through simple actions, thus reshaping our way to question the words and the things. For his exhibition in Leporello, he worked on the Pigneto area, where urban planning coexist and sometimes blends in with spontaneous architecture, seamlessly from the 50s on. Göngrich focused on a small two-storeys concrete structure in via del Pigneto, there where a brand new fenced public garden located in front of a primary school faces the recently opened Metro station, with the blessing of a mural advertising the new Netflix series Suburra, the subway structures reminding an Eighties dystopic version of a geodetic dome. The little sculptural concrete house shows itself with a sort of uniqueness, like an authorial, almost an authoritarian mark, like a brand in our branding obsessive time. A model in the scale of 1:5 of the concrete structure is displayed at Leporello, as a prototype that deals with the question of the Original. The 1:5-sculpture functions as a display-furniture that brings us back to the basic dimensions, as if it were a simple object that has to be observed and investigated. On display also a set unique silkscreen prints of the little concrete structure, titled Original – The Modern Studiolo.
A second wooden structure, functioning as a think tank, will contain Erik's publications together with some visual input related to Rome's urban structures, a silkscreen inspired by Sherry Arnstein's Ladder of Citizen Participation, and a series of spontaneous publications Erik started in Roma: The Atlas of Sculptural Situations, published by eeclectic.de.Erik Göngrich is at the moment fellow at Villa Massimo in Rome. www.goenrich.de. Janine Sack is the creative director of EECLECTIC.de, a publishing house for digital publications in the field of visual culture. They utilize and explore the full potential of digital media and the possibility of fast, worldwide distribution of relevant projects and topics.
With the collaboration of ELSE edizioni, who produced the silkscreen prints, and S.T. Foto Libreria Galleria, that kindly lent us some beautiful vintage photos and postcards of Rome.
With the kind support of Accademia Tedesca, Villa Massimo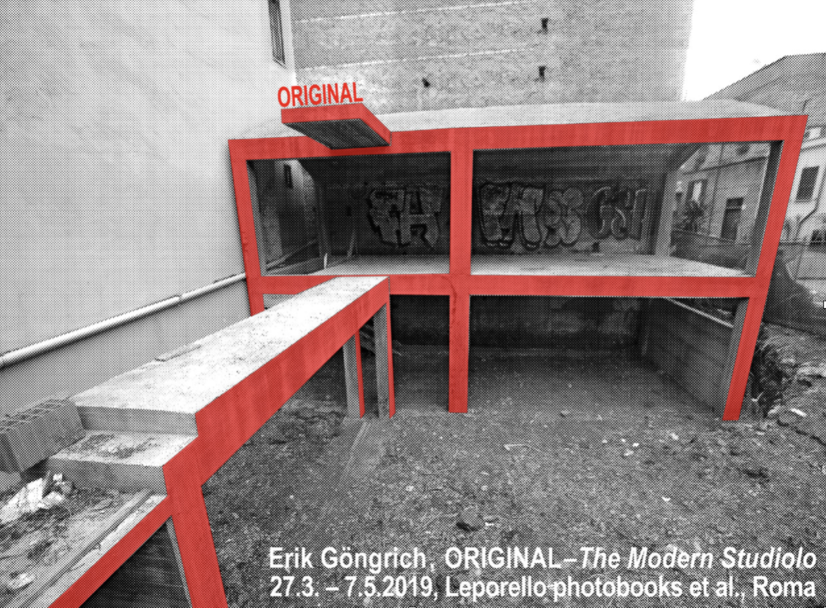 Hours and Infos
Opening 27th march, 7 pm
Exhibition 27 march - 5 may, tue – sat, 16 – 20